Dutch conservationist organisations have joined forces to educate photographers and others about the birds of the Waddenzee.
The Waddenzee, a tidal mudflat area that runs all along the northern coast of the Netherlands and extends as far as Denmark, is a unique habitat listed as one of UNESCO's World Heritage sites. It also has the EU protection status Natura 2000. It's an important resting point for thousands of birds migrating along the so-called Eastern Atlantic route, from the Arctic Circle to Africa. Many other birds spend the winter on the mudflats or breed there during the summer
Unfortunately, in spite of the international importance of the Waddenzee, many conflicting interests put pressure on the area and bird numbers are decreasing. This project, known as Wij & Wadvogels (We and Wad-Birds) runs from 2019 to 2026 and is supported by a large number of national and regional conservationist organisations.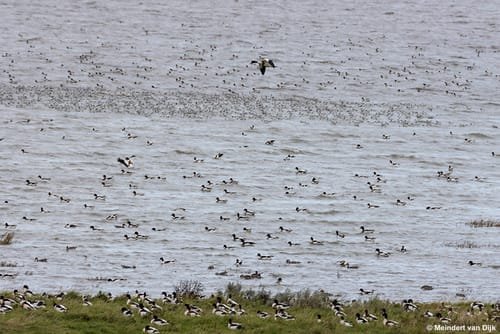 Some of the measures being taken are physical improvements to the birds' habitat. Others are geared towards informing the larger public (residents, tourists, birders, and photographers) how to keep from causing disturbances. These stress the importance of the Waddenzee for millions of birds and the reasons why they need rest and privacy. Special viewing platforms ensure that photographers and birders can enjoy the birds without coming too close.

As the Waddenzee is a tidal area, during high tide the foraging birds need a place on the shore to retreat to and rest. One of these locations is known as the Westhoek. As part of the larger project, a pilot project has started up here. Visitors are given real-time information on a special information column about the tides and when to keep their distance. The effectiveness of the measure will be monitored and evaluated.
Informing and educating bird photographers about birds and their habitats is an important measure for responsible bird photography.